Buy Philips oxygen concentrator In Delhi
Why An Oxygen concentrator?
People suffering from respiratory diseases like COPD(Chronic obstructive pulmonary disease) are advised by the doctors to use an Oxygen concentrator. People suffering from COPD disorder face difficulty breathing, while there no permanent cure for this problem. But by using an oxygen concentrator one can improve his ability to breathe. Nowadays oxygen machines are the best solution for the people having low oxygen concentration in their blood. Or patients suffering from respiratory disease like COPD(Chronic obstructive pulmonary disease).
How to choose an oxygen concentrator?
There are several factors one should keep in mind while going to shop for an oxygen machine.
Which Model to buy?
An oxygen concentrator is available in different models, like normal or portable. But while you are going to purchase them you should check what is your need or what your doctor recommends you. You should go for a portable oxygen machine if you travel frequently. Because a portable oxygen concentrator is easy to carry from one place to the other. There are numerous models available in the market.
How to Select bestseller from the market?
Before you are going to buy an oxygen concentrator you must do some market research. You need to search for different sellers and compare their quality and cost. As there are several Medical equipment sellers in the market you need to pick the best one among many. The best way to find the best and genuine seller of medical equipment is that. Pick the authorized dealer from some top-quality brands like Philips.
Buy Philips oxygen concentrator In Delhi
Philips is a leading brand in the field of technology.Philips oxygen concentrators are the best equipment available in the market. Different oxygen concentrator includes Philips Oxygen Concentrator Everflow, Simply Go Mini Portable Oxygen Concentrator, SIMPLY GO PORTABLE OXYGEN CONCENTRATOR. So if you are looking for oxygen concentrator on rent in Lucknow, then SSB Medicare Pvt is a perfect choice. As SSB Medicare Pvt Ltd is the authorized dealer of Philips, we sell equipment exclusively from Philips. SSB Medicare also sells and rents equipment like a Cpap machine, Bipap machine, patient monitors, etc. You can have BiPAP machine on rent in Lucknow at an affordable rate, anytime when required.
Why SSB Medicare?
First and the main reason to Select us and trust us is that we are an authorized dealer and service provider of Philips. The medical equipment we sell is exclusively from Philips. Our Engineers and technicians are trained by Philips. We offer quick and hassle-free service to our clients. Our technicians will guide you to operate the machine properly. We respond quickly to the queries by our clients. Also, our service engineer or technician will visit your place if you are facing any difficulty in using the machine. Our quick and hassle-free after-sale service makes us a standout amongst different medical equipment sellers or dealers. So, if you want to buy any of the above products in bulk or for personal use contact us. We supply top quality medical equipment in a different part of the country at the most affordable cost. Contact us if you want to buy or rent oxygen concentrator online.
Philips Oxygen Concentrator Everflo(With no cost EMI upto 12 months)
EverFlo product specifications
Weight 31 lbs (14 kg)
Sound level 45 dBA typical
Dimensions 23″ (584 mm) h, 15″ (381 mm) w, 9.5″ (241 mm) d
Required maintenance Compressor intake filter: change every 2 years
OPI (oxygen percentage indicator) alarm levels Low oxygen: 82%, very low oxygen: 70%
Operating temperature 55°F to 90°F (12°C to 32°C)
Input voltage 120 VAC +/- 10%
Input frequency 60 hz
Average power consumption 350 watts
Oxygen concentration* (at 5 lpm) 93% (+/- 3%)
Liter flow 0.5 to 5 liters per minute
Storage/transport humidity -30°F to 160°F (-34°C to 71°C) up to 95% relative humidity
Operating humidity Up to 95% relative humidity
Outlet pressure 5.5 PSI
Operating altitude 0 to 7,500′ (0 to 2,286 m)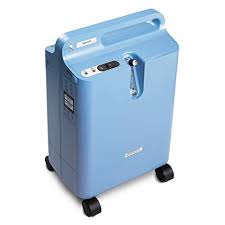 SIMPLY GO PORTABLE OXYGEN CONCENTRATOR (With no cost EMI upto 12 months)
Reliably manage the therapy and lifestyle needs of your patients with just one POC.SimplyGo offers continuous flow and pulse-dose delivery in a device weighing 10 pounds. Simplify patient management – and your business – with SimplyGo.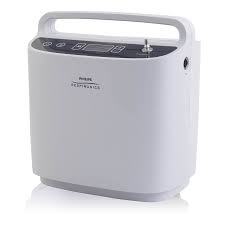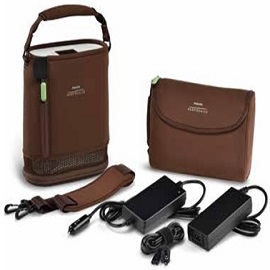 Simply Go Mini Portable Oxygen Concentrator(with no cost EMI up to 12 months)
The SimplyGo Mini portable oxygen concentrator (POC) is designed to help you grow your business by giving you the ability to offer light weight, attractive features, and true reliability that today's patients demand in a POC. At Philips Respironics, we have earned our reputation for designing and building excellence into all of our products. Now, with SimplyGo Mini, you can offer your patients the choice for excellence in lightweight portable oxygen concentrators.
When you place a POC with a patient, you need to know that it's going to have the reliability and ruggedness to help your business:
Eliminate recurring oxygen delivery costs and cylinder hassles
Reduce maintenance costs
Ease inventory management
Minimize patient calls
SimplyGo Mini has undergone the same rigorous testing regimen as that of our SimplyGo POC. SimplyGo Mini was subjected to real-world conditions including impacts, vibrations, and temperatures to deliver reliable performance day in and day out.